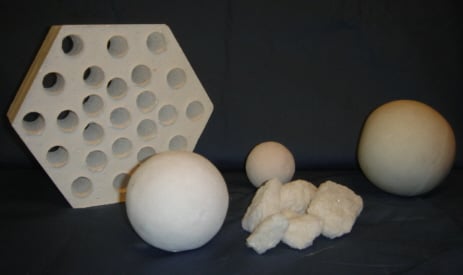 There are several different ways to provide a target and/or catalyst hold down in a secondary reformer. These same methods also apply for synthesis gas high and low temperature shift reactors, although a lower purity material could be substituted to reduce cost. These options are:
Several factors must be considered when selecting catalyst support hold down media:
Purity - Low silica is key with >99% alumina being considered the "gold standard".
Pressure Drop - Depending upon who you talk to, some insist low pressure drop is important; others insist that a higher pressure drop media is important in order to ensure good flow distribution across the top of the catalyst.
Size and Weight - Many secondary reformers have problems with the process gas flow dislocating the catalyst hold down material thus exposing the catalyst bed. If this is a concern, the heavier the individual media piece, the less likely it is to be displaced during service.
Cost - Each of the above options has a different price per installed volume. Price can be considered once the purity, pressure drop and size considerations have been addressed.
Based on our field experience and conversations with operators, catalyst vendors and engineering design personnel, we believe the following to be true:
Alumina lumps have by far the highest pressure drop due to their irregular shape, poor aerodynamic properties and thicker bed volume. Due to their needle like shape, they have also been known to penetrate into the catalyst bed.
50 mm and 76 mm alumina balls have significantly less pressure drop due to their round surface, consistent void volume and reduced volume required for loading. 76 mm alumina balls have approximately 30% lower dP than 50 mm alumina balls.
Hexagonal target tile is a little more difficult to install, but bench scale testing indicates that 64 mm thick hexagonal target tile with 19 mm holes have about half the dP of 76 mm diameter balls. Due to their weight, they are also the least likely media to become dislocated during unit operation.

While past practice has primarily relied upon the use of alumina lumps and alumina balls, industry trends suggest the use of hexagonal target tile as the product of choice for the toughest applications where dislocation of the catalyst hold down media is a concern.
To ask additional questions or to share your own experiences about difficult catalyst hold down applications, please drop us a line.