Synthesis Gas Solutions
The feedstock, production processes, and uses of synthesis gas present some of the most intriguing aspects of today's chemical industry. New feedstocks, including coal and pet coke, are emerging. Novel catalyst technology and process improvements are often seen. Emerging end uses (GTL and CTL motor fuels and petrochemicals, for example) are expanding the uses of synthesis gas beyond the well-known applications of ammonia, methanol, and hydrogen.
Christy offers solutions for almost every step of synthesis gas production, regardless of end-use:
Follow the above links for further information about Christy's products for for the synthesis gas industries, or select one of the documents below.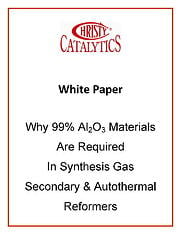 Ever wonder why high alumina materials are required for the catalyst support media, support dome and refractory in Synthesis Gas secondary and autothermal reformers?
Resource Documents

Synthesis Gas: Plant Process and Refractory Solutions

In The Media- Reviews Catalyst Support Media Options for Fertilizer Plant Applications

Know Before You Load

Hold Down Alternatives For Secondary Reformers