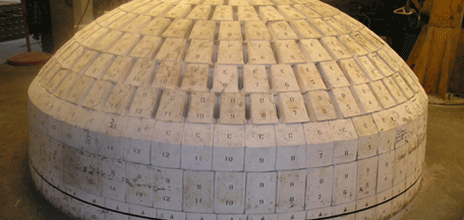 Secondary Reformer Domes
Christy supplies support domes manufactured according to KBR specifications. The material is 99% alumina with very low free silica. These perforated, catalyst support domes are used beneath the secondary reformer catalyst bed.
Typical lead times for support domes may exceed 16 weeks, but Christy keeps a support dome in stock, in the event of an unplanned shut down. They are trial-assembled and match marked for a quality installation.
Domes are shipped with air setting mortar and a wooden support form to be used for assembly.
Christy can also provide competitive quotations for other licensors' secondary reformer domes if the drawings and specifications are provided.