Christy® Fill Heat Transfer Media

Christy has been experts in manufacturing and marketing ceramic media for over 80 years. Yet, we continually see new applications emerge.
In the field of emissions control, many manufacturing plants use Regenerative

Thermal Oxidizers (RTOs) to destroy volatile organic compound (VOC) emissions. These RTO use beds of ceramic media (Christy® Fill Honeycombs and Christy® Fill T-99) to capture the waste heat of combustion and to preheat the combustion air.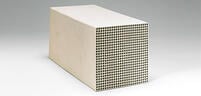 Similarly, many melt shops (steel, aluminum, glass, etc) use reversing regenerative natural gas burners. To conserve energy, these burners capture the heat of combustion in beds of ceramic media, which is used to preheat the combustion air and thereby reduce fuel consumption.